"Unbelievable shop. Staff top class and friendly. A great range of clothes from suits to casual wear, shoes and jackets - they have something for everyone and if they don't they will get it for you."
"Thanks so much to John and Therese who looked after my son for his debs. They went above and beyond to help him with his suit fitting and getting final adjustment done in time. I would highly recommend Morans Menswear - brilliant customer service. Thanks again.
"Fantastic service staff extremely helpful!"
"A great shop with helpful staff. Great, stylish labels at very reasonable prices."
TREAT THAT SOMEONE SPECIAL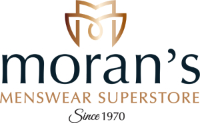 For the past fifty years our name has been synonymous with bringing quality brands to our customers, and giving a personal service that is second to none. We are proud of the fact that we have dressed generations from fathers to sons – always fashionably and with the customers needs at the heart of all we do.